CONTENTS
DOLFORWYN CASTLE, ABERMULE
GLANSEVERN HALL AND GARDENS BERRIEW
LLANWNOG
THE KERRY RIDGEWAY
ABBEY CWM HIR HALL
ABBEY CWM HIR SCHOOL
THE ABBEY'S HISTORY
PARISH CHURCH, ABBEY CWM HIR
HAPPY UNION INN, ABBEY CWM HIR
ERWOOD STATION
TYLWCH
UPPER SEVERN VALLEY
(Walks around Newtown)
PRECIOUS PLACES IN POWYS UNDER THREAT
If you have any
Precious Powys Places
to include here, please contact
mail@penmon.org
DOLFORWYN CASTLE
ABERMULE
This castle was built by Llywelyn Ein Llyw Olaf,
the last Prince of Wales, between 1273 and 1277.
Edward I forebade him to build it and Llywelyn
replied that he did not need the King's permission
to build in Llywelyn's own Principality of Wales.

Photo copyright "John M"
Reproduced here by license

Photo copyright Ralph Rawlinson
Reproduced here by license

Photo source cy.wikipedia.org
Reproduced by license
After a seige which lasted a fortnight, Dolforwyn was taken by Roger Mortimer who was a powerful marcher lord, in 1277. The castle was given to their family. The castle fell into ruins by 1398.
Llywelyn's town nearby was suppressed under the English, as they wanted to keep their stronghold at Montgomery.
Consequently, Llanfair yng Nghedewain (Newtown) was founded in 1279
on a more suitable site nearby.

Dolforwyn Castle was archaeologically excavated between 1981 and 2002
as a joint project between the
University of York Department of ArchaeologyandCADW.
(Source Wikipedia - reprouced by license)
Finds from these excavations included;
part of a leather book cover, a small dice,
a silver coin from the reign of Edward II
and a large array of stone catapult balls from the English siege of 1277.
The excavation produced many unexpected features
as the excavators removed over 15 meters of debris/infill.
These included a small stone lined hall,
English repairs to Welsh masonry (shown by different types of mortar),
a suspected wheat drying oven and
the cistern/cellar well excavated to a depth of approx 6 meters
with signs of it still continuing.
Some features remain to be explained, such as the true use of the cistern/cellar and why certain rooms (such as the D-shaped North tower)
were altered with no apparent reason.
Glansevern Hall
and Gardens
Berriew
We had a wonderful experience visiting the gardens at Glansevern Hall.
Featured here is a history of the Owen family,
who were the original owners.
The Owen family were descended from
Cadifor ap Dinwal, Lord of Castell Hywel.

Montgomeryshire Collections.
Vol. 72
click here to read the whole article about Glansevern
GLANSEVERN
E. H. C. DAVIES, M.B.E., B.A., D.L.
The Welsh Chronicle of the Princes Brut y Tywysogion referring to events of 1165 relates that 'in that year the Lord Rhys attacked the fortress of Cardigan and its castle, and he destroyed and burned them; and he carried off vast spoil.
The castle had been held by Roger de Clare and a garrison of Flemings and Normans, but was taken by escalade.
Tradition has it that the first man up the ladders and over the ramparts wasCadifor ap Dinawal, Lord of Castell Hywel in south Cardiganshire.
He was rewarded for his exploit with extensive lands and with the hand in marriage of Catrin, one of the Lord Rhys' numerous natural daughters.
Cadifor's descendants perpetuated his achievement by adopting and retrospectively awarding to him a coat of arms of a blood-tipped spear between three scaling ladders, with the conventional representation of a castle above them.
Among these descendants was a Montgomeryshire man named Owen Owen, whose family owned property scattered around the county, being termed as of more than one place.
The earlier generations were usually known as Owen of Glyngynwydd, after a farm in the township of Cefn yr Hafodau in the parish of Llangurig, or as Owen of Cefn yr Hafodau after the township itself.
The earlier generations were known as Owen of Glyngynwydd or as Owen of Cefn yr Hafodau.
The Owen family fortune was built from the start of the
18th century with shrewd investments in land,
mining and by marria
g
e
.
They later moved to Glansevern, Berriew, Montgomeryshire.
Owen Owen who died in 1719, owned property scattered around Montgomeryshire. Following his death, the estate was inherited by his son David Owen (1700-1777).

David Owen married Frances Rogers of Cefn-y-berain, Kerry and had four sons.
OWEN OWEN was
Sheriff of Montgomery in
1766.
He
married
Anne
, daughter and heiress of Charles Davies of Llifior, Berriew. He was described as a 'gentleman of Keel' and the family owned much property in the area.
The couple had three sons:

Sir ARTHUR DAVIES OWEN(1752?-1816), Sheriff of Montgomery, 1814, and knighted that year, was a lawyer and took an active part in the public life of his shire (deputy-lieutenant , chairman of the quarter sessions), and was second in command of its Yeomanry Cavalry from 1803 till his death. He was promoted to major in 1813.
He married Jane Pugh in 1799. They had no children of their own, but Jane, widow of Charles Pugh of Llanerchyddol, had a son David Pugh, who became MP for Montgomeryshire from 1847 to 1863. Jane died in 1825.
He died on the 18th October 1816. He lived at Glansevern, Cefn-hafodau having been sold.

DAVID OWEN was baptised on the 16th September 1754 in Berriew church. Before David went to Cambridge he attended his uncle's school at Warrington .
In Cambridge he won the principal Smith Prize in 1777 and gained his M.A. degree in 1780.
David went up to Trinity College, Cambridge, was Senior Wrangler in 1777, became Fellow of his college, and took orders; but afterwards settled in New Brunswick , where he died, unmarried, on the 10th December 1829.

WILLIAM OWEN(1758-1837), was baptised on the 22nd August 1758 in Berriew Church.



William Owen K.C.

Anne Warburton Owen


He was educated at Warrington under his uncle Edward and at Trinity College, Cambridge (fifth Wrangler, 1782, and Fellow), was called to the Bar (K.C. 1818).
William went to Jesus College , Oxford , for a short period between attending Warrington school and Trinity College .
After the death of his brother, Sir Arthur,he inherited Glansevern and became a distinguished figure in the county, and chairman of quarter sessions.
A Whig, he strongly supported the abolition of the 'Great Sessions of Wales,' and rallied his county to the support of the Reform Bill of 1832 . He died on the 10th of November 1837.
His widow, Anne Warburton Owen who died in 1876, left Glansevern to his great-grand-nephew, A. C. Humphreys, who thereupon changed his name to Humphreys-Owen.
There are monuments to all three at Berriew.

Anne Warburton Owen was the daughter of Thomas Slaughter, a Captian with the 16th Regiment of the Light Dragoons. She was a widow when she married.
EDWARD OWEN was a
cleric and schoolmaster.


He matriculated from Jesus College , Oxford , 22 March 1745/6 , at the age of 17. He graduated B.A. in1749 , and M.A. 1752' when he was appointed master of the free grammar school, Warrington

.


In 1763 he became incumbent of Sankey Chapel, Warrington and in 1767, rector of Warrington

.


He was a very good scholar and obtained a good name for himself both as clergyman and schoolmaster. Many of his pupils subsequently became prominent men

.

He was of a particularly benevolent disposition and befriended Goronwy Owen when the latter was curate at Walton.
He took prominent part in the social and literary life of Warringtond
and was president

of
the Warrington library
.



His chief published work is his Satires of Juvenal and Persius, translated into English Verse (two vols., 1785 ; later editions, 1786 and 1810 ). He also published school Latin grammars.




Gilbert Wakefield speaks of Owen as 'a man of most elegant learning, unimpeachable veracity and peculiar benevolence of heart.' but Thomas

.

His portrait is preserved in Warrington Museum . He died on the 5th of April 1807
.
WILLIAM OWEN who died in 1778 at Madras, entered the Navy as a boy in 1750 , and was at Plassey in 1757 and at the taking of Pondicherry in 1760. while still a midshipman.
He became captain around 1770 and had two sons, who attained high rank in the navy :

Admiral Sir EDWARD OWEN(1771-1849) who took part, as commander, in the Walcheren expedition of 1809, was knighted in 1815.
He was vice-admiral on the East India Station, 1828-32, and in the Mediterranean, 1841-5 and became admiral in 1846. He died on the 8th October 1849.

Vice-admiral WILLIAM OWEN(1773-1857), who was in the 'First of June' action of 1794 and at the Spithead mutiny of 1797, after which he was commissioned.
In the 1803-15 war he fought in many actions (he was prisoner of war 1808-10 ), but both then and afterwards, he was chiefly famed as a hydrographer. His charts were of high repute. He carried out surveys in many parts of the world.
In 1847 he was given flag rank , and in 1855 retired, as vice-admiral. He died on the 3rd November 1857, in New Brunswick, which had long been his 'shore' residence, as he had acquired the lands there which belonged to his cousin David.
St Beuno's Church Inscriptions
Large marble tablet with three panels.
Sacred to the Memory of
Owen OWEN of Glyngynwyd
in Cevn-Havod in the
County of Montgomery Esqr.
B. in 1688. D. 1719
Sacred to the Memory of
Matilda his widow of Bwlch y Garreg
she died 19 Feb 1736.
Sacred also to David OWEN
Eldest Son of the above,
bornin 1700, died in 1777 and to
Frances his wife she died in
1754 Aged 66 leaving Four Sons

Sacred to the memory of Owen OWEN
of Glyngynwyd and Tyn-y-Coed Esqr.
eldest Son of the above he was
High Sherrif in the County of
Montgomery in 1766 and died
in 1789 Aged 66.

Sacred to the memory of
Annehis Widow daughter of
Charles DAVIES of Llivior
& Grandaughter ofEdward EVANS
of Rhyd-y-carw
she survived her Husband only
Eighteen days leaving three Sons
and two Daughters
Panel 1
Sacred to the Memory
of
SirArthur Davies OwenKnt.
of Glyngynwyd and Glan Severn
in the County of Montgomery eledest Son of
Owen OWENEsq. andAnnehis Wife;
an able and active Magistrate of the County of
Montgomery, one of its Deputy Lieutenants
and who was also High Sherrif of the County
in 1814 - he died 18th Oct. 11816
Aged 64 leaving no issue.
Sacred to the Memory
of
David OWENA.M. sceond Son of
Owen OWEN Esq. and Anne his Wife
Fellow of Trinity College, Cambridge
Senior Wrangler in that University in 1777
he died unmarried in 1829 Aged 75
at Campo Bella New Brunswick
North America
according to his own request
his remains were deposited in the Family Vault at
Berriew
Panel 2
Sacred to the Memory
of
Mary JONESWidow of
Thomas JONESof
Lower Garthmyl Esq
and eldest daughter of
Owen OWENEsq andAnnehis Wife
she departed this life 29th July
1814 Aged 69.
Sacred to the Memory of
Eleanor OWENyoungest
daughter ofOwen OWENEsq andAnnehis Wife
she died unmarried
18th April 1816 Aged 66.
This tablet was erected
pursuant to the directions of
William OWEN
of Glan Severn Esq. KC
youngest Son of the above named
Owen OWENandAnnehis Wife
Panel 3
1796, Sir Arthur Davies Owen acquired Lower Garthmyl from two second cousins.

c 1800, Sir Arthur decided to build a mansion on the land.

c 1804, work had begun to build the mansion.

1807 Sir Arthur took up residence

1816, October. After the death of his brother, Sir Arthur Owen (1752-1816), William Owen inherited Glansevern.



Glansevern Hall 1820


1837. William Owen died, leaving Glansevern to his widow, Anne Warburton Owen.



Sacred to the memory William OWEN
of Glyngynwyd and Glansevern
in the County of Montgomery Esqre.
one of her Majesty's Counsel
and a Bencher of the ancient and honorable of Lincoln's Inn,
youngest son of Owen Owen of Glangynwyd, Esqr.
and Anne his wife,
an upright and talented magistrate,
chairman of the Quarter Sessions,
and one of the Deputy Lieutenants of the county.
He departed this life on the 10th of November 1837, aged 79,
leaving behind him a name without reproach.
Incorrupta fides, nudaque veritas
quando huic invent parem?
His widow Ann Warburton,
with deepest feelings
of reverence and regret caused this monument to be erected

St Beuno's Church Inscriptions
Large marble tablet with urn and profile portrait in relief.




Glansevern Census 1841
Ann Warburton Owen, 55, Independant (means)
Sarah Huxley 30, Housekeeper
neither ladies were born in Montgomeryshire
Elizabeth Sanderson, 22, Ladys Medic
Sarah Turner, 20 Femaale servant
Jacob Bumford, 35, Male servant
Lewis Turner, 21 Male servant
William Morgan, 29, Male servant
all born in Montgomeryshire

Glansevern Census 1851
Ann Warburton Owen, widow, 68, Landed Proprietor,
born Chester, Glos.
Mary Turner, unmarried, 36, domestic servant, born Berriew
Mary Conste, unmarried, 20, domestic servant, born Berriew
Ann Lucas, unmarried, 21, domestic servant, born Welshpool
Jacob Ramtor, unmarried, 45, servant, born Llandyssil
Evan Richards, unmarried, 42, coachman, born Berriew

Glansevern Mansion Census 1861
Anne Warburton Owen was not in residence
at the time of the census
Elizabeth Jones, unmarried, 36, housekeeper, born Carno
Jane Griffiths, unmarried, 24, housemaid, born Berriew
Sarah Richards, unmarried, 24, dairymaid, born Llandinam
Jacob Bumford, unmarried, 57, footman, born Llandyssil
Evan Rowland, unmarried 52 coachman, born Berriew

Glansevern Census 1871
Anne Warburton Owen, head, widow, 88, Land Owner,
born Campden, Gloucestershire
Frances Sanderson, unmarried 63, domestic servant,
born Bala
Mary Ann Davies, unmarried, 23, domestic servant,
born Berriew
Louisa Proctor, unmarried, 17, dairymaid, born Berriew
Evan Rowlands, married, 63, coachman, born Berriew
Thomas Rees, unmarried, 19, footman, born Berriew

1876; Anne Warburton Owen died in 1876 and was buried on the 11th Jnuary 1876, aged 94. She died without issue, and left Glansevern to her late husband's great-grand-nephew, A. C. Humphreys, who thereupon changed his name to Humphreys-Owen.




Arthur Charles Humphreys-Owen M.P.
1836 - 1905

Arthur Charles Humphreys-Owen born on the 9th November 1836 at Bronhafren, near Abermule, was the son of barrister Erskine Humphreys. He was a descendant of the family of Griffudd ap Cynan, one of the five Royal Tribes of Wales.

He was educated at Harrow School.



Roxeth, Harrow on the Hill
Census 1851
Erskine Humphreys, married, 47,
Barrister in Practice. Started as a boy, born Ludlow.
Eliza Humphreys, wife, 44, born Bettws
Arthur C. Humphreys, son, 14,
scholar at Harrow Public School, born Garthmyl
Edward W. Humphreys, son, 9,
scholar at home, born Garthmyl
John Allsop, unmarried, 31, groom, born Maidstone
Hannah Bounford, unmarried, 20, cook, born Kerry
Mary Roberts, unmarried, 22, housemaid,
born Berriew


He went on to Trinity College Cambridge and graduated in 1860.



Lyth Hall, Birch and Lythe, Shropshire
Census 1861
The family were visitors at Lythe Hall,
the home of Richard G. Jebb, widower 52, Gentleman, Magistrate and his children
Emily Mary 24, Louisa 20 and Arthur T. 21
Eliza Humphreys, 54, Lady, born Montgomeryshire
Erskine Humphreys, married, 57,
Barrister in practice, born Ludlow
Arthur C. Humphreys, son, 24,
Lately left Cambridge, born Garthmyl
Edward W. Humphreys, son,19,
Lately left Harrow, born Garthmyl


Arthur C. Humphreys was called to the bar at Lincoln's Inn in 1863.



Domgay Villa, Llandysilio
Census 1871
Robert Temple, unmarried, 43
Clergyman of the Church of England
& H. M. Inspector of Schools, born Berriew
Arthur C.Humphreys, visitor, unmarried, 34, Barrister at Law M.A., born Berriew,
Elizabeth Evans, unmarried 32 housemaid, born Bettws
Jane Evans, unmarried 23, cook, born Bettws


In 1874, he married Maria Russell.

In 1876 he had inherited the estates of the Owens of Glansevern and added the name Owen to his surname. As a landowner, he had nearly 8,000 acres to his name.

He was a Liberal Member of Parliament for the county from 1894 to 1905, when he succeeded Stuart Rendell by a slim majority of just 225 votes. He chaired the County Council from its inception to the time of his death and was also Deputy Lieutenant of Montgomeryshire.

His greatest work was done in connection with Secondary Education in Wales and the founding of of the Welsh University.

Through his exertions, Mr Gladstone was led to appoint a Commission to enquire into the state of education in the Principality, which resulted in the establishment of the Welsh Intermediate School system.

Mr Humphreys-Owen was chairman of the Central Welsh Board, from 1896 to 1905, the governing body of the Intermediate Schools, to the end of his life.

From 1900 he was chairman of the Cambrian Railways Company, which owned 230 miles of track over a large area of mid-Wales.

Upon all his work he brought to bear "a laborious habit, a fixity of purpose, a scrupulous integrity and a soundness of character.

He dedicated his life-work to the promotion of the highest interests of the people of his native county and of Wales."
Glansevern Census 1881
A. C. Humphreys Owen, Head, married, 44,
Barrister in actual Practice, born Berriew
A. E. O. Humphreys Owen, son, 4, scholar,
born Berriew
Eleanor F. Owen, daughter, 3, born Berriew
Alise Owen, daughter, 1, born Berriew
Philomont V. Bromyard, unmarried 18, nurse, born France
Margaret Pugh, unmarried, 34, cook, born Tregynon
Hannah Jones, unmarried, 29, parlour maid, born Guilsfield
Margaret Hamer, unmarried, 29, housemaid, born Rhayader
Caroline Davies, unmarried, 20, under housemaid,
born Berriew
Mary I. Andrew, unmarried, 17, kitchenmaid, born Berriew
John D. Roberts, unmarried, 20, groom, born Berriew
Glansevern Census 1891
Arthur C. Humphrey Owen, married 54, born Berriew
Chairman County Council,
Former local retired Barrister, Land Owner
Maria Humphrey Owen, wife, married, 50,
born Middlesex
Arthur E. O. Humphrey Owen, son, 14, born Berriew
Elenor Humphrey Owen, daughter 13, born Berriew
Alice Humphrey Owen, daughter 11, born Berriew
Deana Humphrey Owen, daughter 5,born Staffordshire
Stuart Rendel, 56, visitor, married Manufacturing Engineer,
born Plymouth
Arina Paura, single, 23, Governess, born Sundey Ackhiga
Mary Jones, single, 35, cook, born Berriew
Jane Evans, single, 26, parlour maid, born Cheaton, Salop
Elizabeth Middleton, single, 25, housemaid, born Welshpool
Margaret Evans, single, 18, under housemaid, born Berriew
Ellen Evans, single, 16, kitchenmaid, born Montgomery
Henry Lewis, single, 20, groom, born Montgomery
Charles Taylor, single, 22, gardener, born Surrey
Glansevern Census 1901
Arthur Charles Humphreys Owen, married, 64,
M.P. Land Owner and Railway Director, born Berriew
Maria Humphreys Owen, wife, married,
born St George, Bloomsbury
Alice Humphreys Owen, daughter, single, 21,
born Berriew
Diana Humphreys Owen, daughter, single, 15,
born Staffordshire
Odette Collin, single, 19, Governess, born Newchatel, Switzerland
Sarah Sloyd, single, 24, cook, born Forden
Emma Plimmer, single, 29, parlourmaid, born Wrockwardine
Margaret Evans, single, 28, housemaid, born Berriew
Annie Evans, single, 21, housemaid, born Manafon
Florence Copeland, single, 19, kitchenmaid, born Berriew
Harold Hixon. single, 21, groom, born Bettws Cedewain
Arthur Charles Humphreys Owen was succeeded by his son, Arthur Erskine Owen Humphreys-Owen, who was born in 1876.


Arthur Charles Humphreys Owen


His family remained at Glansevern until 1950. In 1960 Arthur's son, Stephen P.F. Humphreys-Owen (1908-1960) died unmarried and the family became extinct in the male line.

In April 1951 the mansion and 110 acres of land were sold to Mr Robert Gordon Barker, a timber merchant.

In May 1965 the property was sold to Mrs J. Handley.

In September 1970 it was sold to Mr and Mrs R. A. Pele-Massy.

In July 1977 it was sold to Mr & Mrs A.G. Jones.

In 1982 it was bought by the Thomas family.

Llanwnog Church

Llanwnog Church Vicarage; John Jones, 59 Clergyman Church of England, born Lampeter, Jane, wife 51, born Nevern, daughter Gwyneth 8, born Llannon, visitor Margorie Isabel Trow, 11, born Llanwnog, Grace Ellen Evans, 20, domestic servant, born Llanwyddelan .
Llanwnog Church Vicarage; Rev. David Parry, widower, 63, Clerk in Holy Orders, Marianne, 69, sister, living on her own means, both born in Llanwnog, Elizabeth Williams 25, domestic servant, born Churchstoke, Margaret A. Shelton, domestic servant, born Bolton, Yorkshire, Richard Evans, 17, general servant, born Llanwnog.
Llanwnog Church Vicarage; David Parry, 53, B.A. Vicar of Llanwnog, born Llanwnog, Margaret Elizabeth, 61 Vicar's wife, born Ruabon, Mary Harriet, daughter, 21, born Llanidloes, son Edward D. P, 17, student, born Darowen, Hannah Soley, 23, domestic servant, born Montgomeryshire, William Lewis, servant, 17, groom, born Llanwnog.
Llanwnog Church Vicarage; No record.
Llanwnog Church Vicarage; David James, 80, Clergyman Vicar, Mary 64, wife, Sarah Hamer, 87, mother in law, Elizabeth Wilson, 28, servant, Richard Rowlands, 25 groom assistant, Martha Pryce, 20, Cook, Jane Evans, 18, housemaid.
Richard Roberts, 42, vicar, Janetta Roberts 39, wife, Jessie Roberts 6, Elizabeth Rees, 16, domestic servant, Edward Pryce, 15, groom, Morgan Jones, 32, Schoolmaster, Jane Jones, 25, wife, Maurice Jones, 2, Winnie Jones 7 months, Sarah Williams, 13, domestic servant.
Llanwnog Church Vicarage; David James, 70, vicar, Mary 54, wife, Sarah Hamer, 77 mother in law, Elizabeth Wilson, 18, servant, Richard Rowlands, 15, groom assistant.
Llanwnog Church Vicarage; David James, 60, vicar, Mary 45, wife, Ann James 4, Emma James, 2, Sarah Hamer, 68, mother in law, John Pritchard, 17, servant, Jane Hughes, 18, servant, Mary Jones, 16, servant.
In Loving Memory
of
MARY PARRY,
wife of DAVID PARRY, Vicar of this parish
born March 10th. 1820
died December 16th. 1888.
To that brightest of all meetings
Bring us Jesu Christ at last;
By Thy Cross through death and judgement
Holding fast.
In Loving Memory
of
WILLIAM JONES
eldest child of DAVID
and MARY his wife,
born May 19th. 1856,
died January 20th. 1880.
Art though weary art though languid,
Art thou sore distrest?
"Come to Me" saith One, "and coming
Be at rest."
In
Loving Memory
of
DAVID PARRY
For 26 years Vicar of this parish,
Born Nov. 7th 1827
Died March 11th 1899.
On that happy Easter morning
All the graves their dead restore,
Father, sister, child and mother,
Meet once more.
Also
In Loving Memory of
ARTHUR KENDRICK HICKMAN
Lieut RWF
Eldest and dearly loved son of
ARTHUR and MARY HICHKMAN
Born July 28th. 1892,
Killed in action April 5th 1916.
while bravely leading his men in effort to relieve Kut.
RIP
In Loving Memory
of
MARIANNE PARRY,
born Nov. 20, 1821.
died May 28. 1895
"Not slothful in business, fervent in spirit
serving the Lord."
In Loving Memory of
EDWARD PARRY
who died Feb. 10th 1903.
Aged 82 Years.
"The Lord grant unto him that he may
find mercy of the Lord in that day."
The Lord is very pitiful and of tender
mercy."
In affectionate memory
DAVID JAMES
late Rural Dean of Arwstley
for fifty two years the beloved pastor of the parish
who fell asleep in Jesus Jany. 9th 1864
Aged 86 years.
Blessed be the God and Farther of our Lord Jesus Christ
who early called his servant
to the knowledge of His truth
by whose grace abiding in Christ
he became a faithful Minister of the Gospel
and during a live of loving service brought forth
much fruit to the Glory of God.
His dying testimony was
"For I know whom I have believed and am persuaded
that he is able to keep that which I have Committed
unto him against the Day."
2 The:1:12
Also of MARY,
widow and faithful helper
of the above named DAVID JAMES
who departed this life March 2nd. 1876
in the 80th. year of her age.
Blessed are the pure in heart.
Prepare to meet thy God.
Marble tablet on sandstone base, inside the Church.
In Loving Memory of
LEONARD LEWIS
Brook Cottage, Caersws,
Late Parish Warden,
Who died from the result of an
accident in this Church Yard, in the
service of the Church,
on the 6th Day of Nov. 1931,
In His 60th., Year
This Tablet was erected to his
Memory by the Parishoners.
RIP
Marble tablet inside the Church.
The Montgomeryshire and Radnor Times of the 17th November 1931 (page 4) reported that Leonard died after an accidental fall, whilst lopping trees in the Churchyard. Leonard, a signalman in Caersws, was a Llanwnog native, born in Coppy House, in the village.
He was cutting boughs voluntarily with 8 other men. His son Albert Lewis said that his father appeared in very good health and had no giddiness. He saw his father after the accident, but he was unable to speak.
The boughs were cut following complaints that they were damaging graves.
A verdict of accidental death was recorded.

Vine Cottage (left) and Vine Shop

Vine Cottage; John Thomas, married, 35, railway platelayer, wife Annie, 40, children John Francis 9, Annie Maud, 7, David 1, all born in Llanwnog.
Vine Shop; Edwin John Wainwright, 42, blacksmith and grocer, born Aston, Salop, Elizabeth Jane, wife 36, born Bettws, both bilngual, children, John T., 15 blacksmith's apprentice, Arthur, 13, Emily E., 11, Robert, 8, William Walter, 5, Florence 2 and Harriet 1, all born in Llanwnog.
Vine Cottage; unoccupied.

Vine Shop; John Kinsey, 30, Poor Rate Collector, Stone Engraver, Parish Clerk and grocer, born Llanwnog, Abigail, wife, 25, born Churchstoke, Jessie, daughter 1, born Llanwnog.
Vine Cottage; Humphrey James, 71, married, Tailor and draper, born Tregynon, Lloyd Thomas, 47, tailor, born Cardigan, Elizabeth Jones, 32, House keeper, born Carno.

Grocer (Vine) Shop; George Morgan, widower, 61, grocer, born Aberhafesp, Jane daughter, 23, grocer's assistant, born Llanwnog.
Vine Shop; Ann Tudor, 60 grocer, Edward Rogers, 22, shoemaker
Vine Shop; Ann Tudor, 50 widow, grocer, Edward Rogers, 12, scholar
Vine Shop; David Tudor, 37, tailor, Ann Tudor 44, wife, Thomas Morgan, father in law, labourer, Ann Williams, 17, step-daughter, needlewoman, Edward Rogers, 2, inmate, and Edward Rogers, 17, journeyman tailor.
Vine Shop; Thomas Morgan, 40, shoemaker, Ann 30, wife, Ann Williams 6, David Tudor, 25, tailor, Cornelius Turner, 15, tailor
.
Ty'n Llan and Old Talbot

Ty'n Llan; John Kinsey, 40, Parish Clerk - local church official, born Llanwnog, Abigail, wife, 35, born Churchstoke, children Abigail, 12, John Henry, 9, Ethel May 8, Jessie, 6, Wlater Evan, 2, Albert, 10 months, all born in Llanwnog. Sarah A. Watkin, 22 worked there as a domestic servant, also born in Llanwnog.
Three households lived at Old Talbot;
James Davies, 31, railway platelayer, Mary 32, wife, children, David 10, Annie 8, Sarah 6, Edward 4, Elsie May 2, all born in Llanwnog.

Susannah Andrew, 49, single, shirt seamstress, her mother Elizabeth Roberts, widow, 83, and Jenny Andrew, niece 19, all born in Llanwnog.

Hannah Hughes, 33, single, dressmaker, her brothers, David Hughes, 27, railway labourer, and John Richard Hughes, 25 a tailor and nephew David Richard Hughes, 15 and niece Jane Elizabeth Hughes, 8, all born Llanwnog.
Ty'nllan; Jane Kinsey, 69 widow, farmer, Matilda Kinsey, 25 daughter, dressmaker,, Abigail Kisey, 2, granddaughter
Old Talbot; Richard Thomas, 69, lead miner, Rebecca, 70, wife.
John Morris, 35, tailor, born Cemmaes, Ellinor, wife, 35, born Darowen, son John Daniel, 22, tailor, born Llanwnog, daughter Susannah, 19, domestic servant, born Llanllugan, sons, Richard E. 17, tailor, and Hugh E. 15, tailor's apprentice, and grandson William F. 3 months, all born Llanwnog.

Elizabeth Rowlands, 73, widow, Susannah Andrews, 39, daughter, dressmaker.
Ty'nllan; Evan Kinsey, married, 76, Parish Clerk, son John 20 Stone Engraver, daughters Harriot 18, pupil teacher, Matilda 15, Post Office Assistant, all born Llanwnog.
Ty'nllan Cottage, uninhabited.
Old Talbot; Richard Thomas, 59, lead miner, born Machynlleth, Rebecca, wife, 60, Morgan, son 12, Emalie, 87, widow, mother, all born Llanwnog.
John Morris, 25, farm servant, born Llanwnog, Mary, wife, 20 born Newtown, Richard, son, 1, born Llanwnog.
Richard Roberts, 67 road labourer, born Trefeglwys, Elizabeth, wife, 62, born Llanwnog.
Tynllan; Evan Kinsey, 65, Parish Clerk, Jane 49, wife, children Jane 16, seamstress, John 10, Harriet, and Matilda, 5.
No record found for Old Talbot.
Tynllan; Evan Kinsey 56, Parish Clerk, Jane, 39, wife, children Mary 10, Jane 5, Ann 4, Sarah 3, John 5 months
Mary Evans 70, widow.
Old Talbot; Elizabeth Jenkins, 81, widow.
Edward Jones, 36, railway labourer, Mary, 35, wife, children; Edward Jones 11, Evan 8, Ann 6, Jane 3 , John 1 and Thomas Jones, 9 months.
Tynllan; Evan Kinsey, 44, Parish Clerk and collector of poor rates, Jane 29, wife, Evan Kinsey, 13, son, grocer's apprentice, Mary 5 months.
Thomas Evans, 74, Pensioner from 4th Foot, Mary, 63, wife.
Richard Thomas, 70, farmer, Mary, 81, wife, Elizabeth Davies, 21, servant.
Old Talbot; No record.
Tynllan; Ann Morgan, 80, pauper.
Evan Evans, 35, agricultural labourer, Jane 30, wife, Evan 10, William, 8, Thomas, 6, Richard 3 and John 6 months.
Richard Thomas, 60, farmer, Mary, 70, wife, Margaret Williams, 15, servant, Jane Thomas 80, mother.
Old Talbot; Elizabeth Jones. 55, Susannah Jones 20, daughter, seamstress, Hanna 10..

Llanwnog School

Llanwnog National School House; Thomas Shelton, 52, Schoolmaster, born Weston, Yorkshire, Sarah 56, wife, Assistant School mistress, born Wetherby, Yorkshire, Edith 21, daughter, domestic servant, Arthur, 17, wheelwright apprentice, both born Llanwnog.
Llanwnog National School; Thomas Shelton, 42, National Schoolmaster, born Dunkeswick, Yorkshire, Sarah, 46, wife, assistant school mistress, born Wetherby, daughters Elizabeth 21, general domestic, Mary Jane, 19, general domestic, both born Harewood, son John Herbert 12, daughter Edith 11, and son George Arthur, 7, all born Llanwnog
Llanwnog National School
;
Thomas Shelton, 32, schoolmaster, Sarah, 37, wife, born Wetherby, children, Elizabeth,11, Mary Jane 9, both born Harewood, Yorks, Alice 7, Margaret Ann, 5, John Bertie, 2 and Edith, 1 both born Llanwnog
Llanwnog National School; no record.
Llanwnog National School: David Evans, 21, schoolmaster, Elizabeth Evans, 25, wife.
No earlier records
Tynsarn

Tynsarn; David Jones, 40, retired labourer, born Carno, wife Eleanor 38, son David 7, boarders Charles Watkin 8, Rosa Watkin 6 all born Llanwnog and Margaret Ann Davies, 4, born Bettws.
Elizabeth Lewis, 70, widow, born Carno, William Lewis, son 36 railway labourer, born Llanwnog, boarders, Margaret Bumford, 11, born Newtown, John Jones, 8 and John Owen, 7, both born Llanwnog.

One house unoccupied.
Tynsarn; John Lewis 62, general labourer, born Llanfihangel, Elizabeth wife, 62, born Carno, father William Lewis, widower, 84, retired carpenter, born Trefeglwys.

John Pritchard, 77, retired farmer, Charlotte, 79, wife, no places of birth recorded.

Evan Davies, 50, general labourer, born Llandinam, Margaret, 63, wife, born Llanbrynmair, John, 4, grandson, born Llanwnog, Elizabeth Williams, 48, lodger, pauper, born Llanbrynmair.
Tynsarn; Mary Owens, 57, married, farm labourer's wife, Ann Bumford, daughter, unmarried, 22, dairymaid, both born Llanwnog.
John Lewis, 52, general labourer, born Llandyssil, Elizabeth, 52, wife, born Carno, Evan Evans, 83, widower, lodger, mole catcher, vermin control, born Ireland, William Thomas, 63, boarder, farm servant, born
Manafon,, James Carter, 10, boarder scholar, born Llanwnog, Thomas Lewis visitor, 31 farm servant, born Llanfair, Jane Lewis, visitor, 19, wife, born Llanbrynmair.
Evan Davies, 46, lead miner, born Llanwnog, Margaret, wife, 52 born Llanbrynmair, Richard Davies, 11, born Llanbrynmair.
Tynsarn, Mary Bumford, 49, labourer's wife, children, Mary Edwards 21, Richard 8, Edward 5, Ebenezer, 5 and granddaughter, Mary Edwaeds, 2 weeks old.
John Lewis, 41, labourer, Elizabeth 40, wife, children Ann 13, John 10 and William 8.
Evan Davies, 32, agricultural labourer, Margaret 44, wife, children Elizabeth, 8, Evan, 5, and Richard 1. Evan Jones, 65 a widower, was lodging there..
Tynsarn; Elizabeth Wilson, 49, widow, son John Wilson, 14 and lodger Evan Evans, 69, a turnpike road labourer.
John Lewis, 31, railway labourer, Elizabeth 31, wife, children, Elizabeth , Ann 3, and John, 6 months.
Richard Rowlands, 50, a cooper, Eleanor Rowlands, 18, daughter, housekeeper, John 12, Jane, 8, Margaret 4 and Elizabeth Worthington, 64 a visitor.
Tynsarn; Richard Thomas, 60, farmer, Mary 70, wife, Margaret Williams 15, servant, Jane Thomas 80, mother
.
Jeremiah Watkin, 25, agricultural labourer, Ann, 25, wife, John 1, son.
Richard Rowlands, 40, Cooper, Ann 40, wife, children Richard 5, Eleanor 4 and John 2.
Tynsarn; John Jones, 30, agricultural labourer, Ann, 25, wife, Ann 9, Elizabeth 7 and Jane 4.
Richard Jervis, 53, labourer, Catherine 44, wife, flannel weaver, daughter Mary, 13.
"Hiaptrw ho! Hiaptrw ho!"
As the distant cries carried through the still evening air, neighbouring farmers carefully secured their livestock from straying into the oncoming herds of Welsh cattle en route to the English markets.
Clouds of dust billowed as the animals' trails converged on Cider House Farm, near Dolfor, Montgomeryshire, led by the head drover and guided by his trusted assistants.
Dusk was nigh and the weary men, having travelled since dawn, were relieved to reach their days' destination. Pleasantries were exchanged as the head drover arranged the pasteuring of the beasts in his charge, for then he could enjoy a good sleep indoors, unlike his companions, who prepared for a good night-long vigil among his stock.
Reflecting on the trek over a pint of good strong cider, the drover told of how the herds were procured on trust and the arrangements made for the shodding of hooves along the way. He related their good fortune in having made the 16 or so miles that day with little or no incident. However, the possible dangers which may lie ahead of them from robbers and bad weather, was foremost in his mind.
His eyes lost their glazed expression as he finished his pint aand beckoned for a fresh tankard before retiring to his bed.Outside, all was quiet as the convoy slept.
The following day would take them over Offa's Dyke to Bishops Castle along 'Yr Hen Ffordd' (The Old Road), or Kerry Ridgeway.
Cider House Farm is situated about a mile from the village of Dolfor, on the Newtown to Knighton road.
Here, opposite a gateway through which endless herds of cattle, flocks of sheep and other livestock had filtered, I stood, emulating those long departed drovers, whose ghosts remmain undetected in the mists which regularly blanket this rugged, open and wild terrain. Ahead of me lay an inviting passage through time, as I set off in the wake of centuries of travellers to my destination, some 18 miles east.
Nearby the rivers Ithon, Mule and Teme trickle into life, eventually joining forces in the Bristol Channel.
Luscious grass coaxes the track along as it gradually climbs up the spine of Kerry Hill. Within minutes, the first key is turned in the lock of our heritage, as cross dykes mark the forlorn boundaries of iron age ranches. A few yards on rest bronze age barrows and tumpds, remaining in memory of their dead. Sadly the only mourners appear to be the black-headed Kerry Hill sheep, who roam their ancestral domain, following numerous spur paths, the foundations of which were laid by those buried here as they moved from community to community.
Further on. a nine-stoned circle, several yards off the track, stands to this day; a meeting place for stone age man perhaps. Recent flint findings suggest that he once patrolled the area. The first flints were splinters, used to improve their normal weapons, probably clubs and spears.
As the wind raced up the hillside, rendering birds into suspended animation above me, I felt that our Palaeolithic friends could have found a more convivial assembly point.


Continuing past Kerry Pole Farm, I reached a Forestry Commission road, half sheltered by trees. A fine panoramic view at 155 feet had by now unfolded itself to my left, with the Cader Idris Range clearly visible in the distance as I looked over Kerry, Welshpool and faraway Llanymynech.
The Upper Short Ditch appear ahead, having survived since the 6th century BC, as indeed has the Lower Short Ditch a mile or so ahead.


Between these two ditches stands the Cantlin Stone. Roughly engraved, it reads;
W C DECSED HERE
BURRIED AT BETTWS
© Copyright
Philip Halling
The Cantlin Stone
The stone marks the spot where a pedlar died when visting local farms. Rival parishes argued about who was responsible for buryng the man.
Betws y Crwyn eventually undertook the task. Alongside it is an 'Ionic' cross erected by an M.P. named Botfield in 1858, in Cantlin's memory.
The Ridgeway stretches by the Long Plantation. Strong gales in past years devastated the area, leaving a scene reminiscent of war-blitzed Britain.


Offa's Dyke looms in the distance, on its way from Chepstow to Prestatyn. Here, it tumbles down Edenhope Hill towards Cwm, Churchstoke. Hikers are privtleged to walk its length, thanks to the late Frank Noble and the Offa's Dyke Association, based in Knighton.
The penultimate time-piece in this journey is Caer Din Ring hill fort, at a height of 1323 feet. Its remains are clearly distinguishable, having once defended local communities in the Iron Age.


Finally the Motte and Bailey Castle at Bishopsmoat represents the Norman era, as the Kerry Ridgeway finally heads for Bishops Castle in Shropshire.

ABBEY CWM HIR HALL
The Hall at Abbey-Cwm-Hir is Grade 11* listed as one of Wales' finest example of Victorian Gothic Revival architecture.
The Hall is on the site of a house built c.1656 for the Fowler family, which was later owned by the Hastings family, Earls of Huntingdon.
Thomas Wilson, a London businessman, purchased the Abbey Cwm Hir Estate in 1824.


ABBEY CWM HIR 1833
The Hall was built in 1834 by Thomas Wilson the great Victorian improver, the house was doubled in size by the Philips family in 1869, who then added the snooker room in 1894. The architects were Poundley and Walker of Shrewsbury.

CENSUS NOTES.

I have featured below, censuses from 1841 to 1901 inclusive.
The handwritten entries are not always clear - so there may be errors - spelling is as it appears on each census.
Entries record people living at the Hall on the day/night of each census day.
Other people will have have worked at the Hall - those living in the village. They are sadly not recorded.
Others will have worked in between the census years. Again, these are sadly not recorded here.
1841 CENSUS.




The owner, Thomas Phillips was not in residence at the Hall during the census day 1841.




It was occupied by Thomas' gardener, James Robinson recorded as 40 years old, and his wife Alice

.
The estate was owned by Mr Francis Philips by 1847
1851 CENSUS.
P. A. Phillips 57, a land proprietor was head of household. He was born in Manchester and noted as married, although his wife was not at the Hall on census day.

James Robinson 52, born Inap, Yorkshire was still gardener there and his wife Alice, 42 of Leyburn, Yorkshire, was employed as a housekeeper.

Martha Davies, 23 was the housemaid. She was born in Mochdre, Montgomeryshire.
1861 CENSUS.
George Henry Phillips 28 and unmarried had become head of household at the Hall by 1861. He was born at Longsight, Lancashire and was a Landed Proprietor.

James Ward, 52 from Barnsham, Cheshire had become gardener, and his wife Alice Ward 51, of Wigan, Lancashire, was housekeeper.
Catherine Maguire 34 of Liverpool and Martha Jones 18 of Wrexham, were house servants.
During the years 1865/66, Miss Mary Beatrice Philips, a sister to the Squire, Mr George Henry Philips built a new church in Abbey Cwm Hir, entirely at her own expense.
Wilson's house was extended and altered as a Victorian mansion of ashlar, decorated with polychromatic bands and elaborate bargeboards, by Poundley & Walker of Liverpool in 1867-69 for Thomas Philips, a Manchester cotton manufacturer. The Hall had doubled in size by 1869.
1871 CENSUS.
George H. Phillips 39, and was married to Anna, was still head was now a Magistrate and landowner. Neither Anna nor their daughter Mabel 2 was resident at the Hall.
James I. Evans 52, Vicar of Abbey Cwm Hir was visiting the Hall, and staying overnight on census day.

James Ward 60, widower, a butler born in Sandbach, Cheshire. It is possible that this is the James Ward who was the gardener. Although place of birth is recorded differently, this is not unusual on census returns.
Walter Lawrence 14 of Littlebourne Kent was the domestic page.
Catherine Maguire, now 44 has been promoted to cook.
Annie Blewer 29 of Alberby, Shropshire was a housemaid.
Sarah Bignew (?) 24 a laundress from Chepstow, Monmouth.
1881 CENSUS.
George H. Phillips J.P., M.A. Oxon aged 49 and married, continues to be head of household. He is married to Anna, T. Phillips 44 of Stockport, Cheshire.
Their family consisted of Mabel 12, born in London, Anna C. 10, Doris E. 8, Francis G. P. 7, Charles H. 5 and John L. 2, all born in Abbeycwmhir.
George Mattingly 54, of Hurst, Berfkshire held the position of Butler.
George Leighton 35 of Huddersfield, Worcestershire worked as a groom.
Walter Perkins 15 of Watford, Herefordshire was footman.
Caroline Mattingly 58, wife of George from Essex was a nurse.
Ann Evans 34 was now cook, from Meifod, Montgomeryshire.
Amy Thomas 28 of Llandegley, Radnorshire was housemaid.
Mary Mason 18 of Llangurig, Montgomeryshire, was also a housemaid.
Jane T. Watkins 20 of Herefordshire was a kitchenmaid.
Dinah Edwards 16 of Presteigne, Radnorshire, was a nurse.
1891 CENSUS
George Phillips had died by the time the 1891 census was enumerated.
His widow Ann T. Phillips 54 was now head of the household.
Her family living at the Hall, consisted of Mabel 22, Chrystine 20, Doris 18 All were recorded as landed gentry, in addition to their mother. Francis 17, Charles K. 15, John L. 12 were all scholars.
Elizabeth Cantwell 49, born Barrow St George in the East, was cook.
Hetty J. Hulme 27, born Mancap, Cheshire, was parlourmaid.
Helen Bain 25, born Caithness, Wick, was head housemaid.
Jane Hill 17 born Herefordshire, was under housemaid.
Emily A. Davies 20, born Abbeycwmhir, was kitchenmaid.
The Philips family added a snooker room in 1894


Evening Express
19th January 1898
1901 CENSUS
George and Ann's daughter Chrystine A. Phillips 30 and single, living on her own means had become head of the Hall's household by 1901.
Her family consisted of niece Vera Mabel Phillips 6, born Ahmednuggur, India, nephew Guy Vivian A. Phillips 5, born Kharwar, India, and neice Joan U. Phillips 4, also born Kharwar, India.
Alice A. Birch 31 of Lyonshall, Herefordshire was cook.
Helen Bain 33, was still housemaid.
Clara A. Evans 26, of Crickhowell, Brecon, was parlourmaid.
Annie Lewis 19, born Nantmel, Radnor, was housemaid.
Ellen I. Ingham 33, of Dorset, was nurse.
Annie Price 16, of Old Radnor, was also a nurse.

ABBEY CWM HIR 1903
Paul and Victoria Humpherston bought the Hall in late 1997 and have spent the subsequent years restoring it. Their results have been featured on BBC "Discovering Welsh Houses" and "Wales Today", on ITV "Wales Tonight" and on S4C.
ABBEY CWM HIR SCHOOL
1861 Census
Gamekeeper John Pearce 48 and his wife Sarah 39, both of Shrewsbury, lived at School Cottage. Their daughter Harriet 13, was born in York

1881 CENSUS
Farm labourer Evan Owens 50 from Kerry, Montgomeryshire lived at School Cottage, with his wife Ann 45 of Radnorshire. Their sons Thomas D. 12 and William H. 7 were born in Abbey Cwm Hir.

Another part of School Cottage was occupied by Richard Kinsey 63, of Nantmel, an agricultural labourer, wife Sarah 69, of Abbey Cwm Hir, son in law Richard Davies 56, of St Harmon, also an agricultural labourer and his wife Elizabeth 32 and their son Richard Kinsey 8. John Davies 21, a carpenter boarded at the home. All born in Abbey Cwm Hir.

1891 CENSUS
Miss Emily Taylor 40, was the School Mistress, living at School House. She was born in Taunton Somerset.

School Cottage was occupied by farmer John Price 49, wife Margaret Price 54, daughter Margaret 10, mother Margaret 87, who lived on her own means, all born in Nantmel and stepson Price Lloyd 15 born in St Harmon.

1901 CENSUS
School Cottage is occupied by Evan Owen 69, widower and agricultural labourer born in Kerry.

Another part of the property is occupied by carter Edward Evans 26 of Bettws y Crewyn, wife Elizabeth 25 from Llandrindod Wells and daughter Minnie 2 born in Llanbadarn Fawr.

A third family at School Cottage was gardener Richard Davies 56 of St Harmon, wife Elizabeth 52 of Abbey Cwm Hir and boarder John Davies 41, a coachman groom of Cefnllys.

1891, A year in the life of
Abbeycwmhir National School
Emily Taylor was the 40 year old schoolmistress in sole charge of the small village school in Abbeycwmhir, Radnorshire, in 1891. She found herself trying to maintain the high standards required by the school's inspectors in the face of constant absenteeism, and later her own ill-health.
It was a year of severe winters at its opening and close. Many pupils had to travel long distances to get to school, and this made a dent in the attendances. On the opening day of the school only 5 children were in attendance initially, falling to only 2 the next day.
It was not only the weather that caused problems.Children were often kept from school to help with work or earn money for the family. One boy, Pryce Powell, was kept away from school employed as a grouse beater.
He was then prevented from returning to school as he had no boots - a problem for many children throughout the year.
| | |
| --- | --- |
| | "Price Powell has been out twice since Xmas, but his boots have suddenly become too small or his feet increased in dimensions, consequently he cannot attend school." |
However, by far the principal cause of absence was illness. The children suffered badly with colds and sore throats:
| | |
| --- | --- |
| "John H Price, Leonard Evans and Annie Griffiths have very bad colds and are coughing incessantly, they quite interrupt the work of the school." | |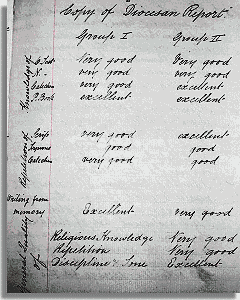 In May, a severe bout of influenza caused the closure of the school for 3 weeks when Miss Taylor herself fell foul of the illness. On her return in July, she visited one family at The Groes where the children had along distance to travel.

The school received regular visits and inspections from various officials. However, Miss Taylor's worries that absenteeism would affect standards seem to have been misplaced as the school received a very creditable Dioscesan report:
Bessie Davies, however, completely failed her Standard IV dictation:

"in Dictation Bessie Davies is particularly bad in this subject, she has an impediment in her speech and spells the words as she pronounces them."
The abolition of the payment of fees forschool attendance resulted in a surge of interest. Parents were further relieved of paying for school materials later that month, but it is not explained how this came about.
Miss Taylor's own ill-health, which had begun earlier in the year with influenza, neuralgia and bronchitis, continued to worsen She closed the school in October on the advice of her doctor: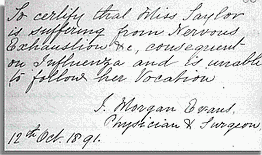 "To certify that Miss Taylor is suffering from nervous exhaustion &tc consequent on influenza and is unable to follow her vocation.
J Morgan Evans
Physician and Surgeon."
In her closing entry she writes: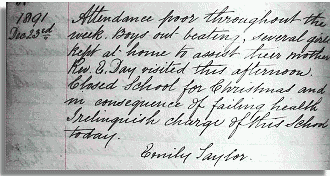 "December 23rd 1891 Attendance poor throughout the week. Boys out beating, several girls kept at home to assist their mothers. Rev E Day visited this afternoon. Closed school for Christmas and in consequence of failing health I relinquish charge of this school today.

Emily Taylor"

It appears from the entries for the beginning of 1892 that it was very difficult to find certificated teachers as it was not until 1893 that a full time replacement for Miss Taylor was found.
TAKEN FROM;'POWYS, A DAY IN THE LIFE'. Click here to access.
THE ABBEY'S HISTORY
(to be continued)

CHRONOLOGY
| | |
| --- | --- |
| 1143 | Abbey founded by Maredudd ap Madog |
| 12Cent | Mortimers of Wigmore conquered kingdom and became patrons of the Abbey |
| 1176 | Abbey refounded by Cadwallon ap Madog and Einion Clud. Becomes a daughter Abbey of Whitlands by monks from there. |
| 1198-99 | A group of monks from Cwm Hir moved north to found a new daughter abbet at Cymer, near Dolgellau. |
| 1228 | Llywelyn the Great rebuilt the Abbey Church. |
| 1231 | Henry III was paid a 300 mark fine to prevent him destroying the Abbey Church. |
| 1282 | Llywelyn the Last killed at Cilmeri near Builth. His headless body is buried at the Abbey |
| 1377-81 | Poll tax returns show a shrunken population at Cwm Hir to 8 monks. |
| 1402 | The Abbey was burnt by Owain Glyndwr |
| 1461 | On Edward IV's accession, the Abbey's possessions were merged into crown property. |
| 1521 | Abbey's income was £28.85. |
| 1535 | Abbey's income was £24.97, |
| 1536 | Dissolution of Monasteries. Only 8 monks remained in the Abbey. |
| 1542 | Four columns and five arches taken to extend Llanidloes Church. |
| 1644 | Royalists of Radnorshire fortified and defended the Abbey against the Parliamentary army. They stormed and captured it. The buildings were then completely destroyed. |
THE PARISH CHURCH
ABBEY CWM HIR
(to be continued)
CHRONOLOGY
| | |
| --- | --- |
| 1633 | Church dedicated to St Mary was a Chapelry to Lanbister. Registers kept from this date. |
| 1680 | Church on present site built at the expense of William Fowler, son of Sir Richard Fowler, Sheriff of the county in 1655 |
| 1831-34 | Church Incumbent; J. Picton George |
| 1834-41 | Church Incumbent; W. Evans |
| 1841-91 | Church Incumbent; J. J. Evans |
| 1891-1907 | Church Incumbent; E. H. Day |
| 1907-16 | Church Incumbent; W. F. B. Ward |
| 1917-18 | Church Incumbent; J. Welsh P. in C. |
| 1918-33 | Church Incumbent; W. Russell Jones |
| 1933-55 | Church Incumbent; D. B. Evans |
| 1955-60 | Church Incumbent; I. Richards |
| 1960-69 | Church Incumbent; A. G. Lee |
| 1969-75 | Church Incumbent; D. H. Jones |
| 1976-84 | Church Incumbent; N. J. Davis-Jones |
| 1984-96 | Church Incumbent; N. D. Hall |
| 1996-2002 | Church Incumbent; D. M. Griffiths |
| 2003- | Church Incumbent; A. C. Ballard |
1901 CENSUS
Ernest H. Day 34, of Breadhurst,Kent, Priest in the Church of England lived at Brynmoel, with his wife Doris E. Day 28.
Their family consisted of George F. H. Day 5, Geoffrey C. H. Day 3 and Joyce M. O. Day 2. Mother Doris and children were all born in Abbey Cwm Hir
Emily Boucher 46 was the cook born in Herefordshire.
Edith Evans 25 was a nurse was from Abbey Cwm Hir.
Elizabeth E. Jones 19, was also a nurse, born in Disserth.

In 1891, Ernest 24, was a Clerk in Holy Orders, lodging at 7 Guildford Street East, Clerkenwell, in the household of Charles and Eliza Rainsley. Charles was a type maker.
In 1881, Ernest, 14, was a boarder at 1 - 4 Achery Villas, John W. Tottenham's School, Hastings St Leonard.

In 1871, Ernest was 4 and living with his parents, Hermitage, 37 and Mary Day 38, in High Street, Findsbury, Kent. Hermitage was the Vicar of Bredhurst, Kent.
HAPPY UNION INN
ABBEY CWM HIR


Copyright Mike Flaherty, reproduced by licence
(Click here to visit The Happy Union Inn website)
1841 CENSUS
Evan Williams 50 was publican here. His wife Mary was 45. They had two children William 15 and Mary 8. Jane Evans 15 was a female servant.
Hendry Davies 20 and Hugh Richards 20 were painters living there.
Ages in 1841 were generally rounded to the nearest '5'.

1851 CENSUS
Price Jones 35 was Inn Keeper with his wife Margaret 28.
Jane Vaughn 18 was a general servant. All were born at Hefenlys (?) Radnorshire

1861 CENSUS
William Price 43 born Nantmel,was the landlord and grocer at Union Inn. His wife was Ann 41 born Llandewy.
Their family consisted of James 11 born Glamorgan, William 8, Mary E. 6, Edward 3, Alfred 2 all born in Abbey Cwm Hir.
Ann Wozencraft 17 of Abbey Cwm Hir and Mary Lewis 15 of St Harmon, both were housemaids.

1871 CENSUS
William Price 53 was the Inn Keeper at 'Union Inn' as it was recorded at the time. He was born in Nantmel.
His wife Ann 50 came from Llandewy.
Their family consisted of James 21, born in Glamorgan, William 18, Mary Elizabeth 16, Edward 14, and Alfred 5, all noted as scholars and born in Abbey Cwm Hir.
Elizabeth Jones 17 of Abbey Cwm Hir and Alice Evans 14 of Nantmel were domestic servants.

1881 CENSUS
William Price 28 was recorded as head of household at Union Inn, son of William Price the previous Inn Keeper. William is recorded as a grocer only. His mother Anne 61 was still married, but husband William was not in residence.
His sister Mary E. Price was 26.
Mary Dakins 16 was a general servant, born in born in Abbey Cwm Hir.

1891 CENSUS
William Price 38 is grocer and Inn Keeper at the Union Inn, he is now married to Amy 38 and they have a son, William A. Price 3. His mother Ann 71 and widowed, lives on her own means.

His niece Mary C. Evans 14 of Crickhowell, is a nurse.
Alice Owens 32 from Nantmel, worked as a general servant.
1901 CENSUS
William Price 48 is grocer and Hotel Keeper at The Union Inn. Wife Amy is 48.
Jane E. Owen 17 is a general servant born in Abbey Cwm Hir.
William Wozencraft 33 is a stone mason, from Llanano.

Gail Croft from Australia got in touch with me. My thanks to her for the following information;
I thought that you may be interested to know that my ancestors William and Ann Price were the Innkeepers at the Happy Union Inn from around 1852 (according to Abbey Cwm Hir Parish Registers) and that the Happy Union was in Price family hands right up until around the late 1930's (when Jessie Ann (Price) and her husband George Richard Bevan were running it) as far as I can determine. I believe that the present Jones family took over from them.
William and Ann Price had a total of 9 children but only 5 of them survived to full adulthood:
James Price- my great grandfather. He was the only one to leave Wales. He became a Vicar and was the Vicar of Mark Cross in East Sussex for 50 years.
1881 Census; The family were living at The Vicarage, Rotherfield, Sussex.
James Price 31, was Vicar of Mark Cross, born Rhymney, Glamorgan. His wife Maria (nee Hodgson) was 37, they had two children living with them, Alexander 2, Nora 8 months, all born Ashburnham.
Ellen Packham 17 was a general servant, and Hannah Hazelden 15, a nursemaid.

1891 Census; The family were living at The Vicarage, Rotherfield, Sussex.
James Price 41, was Vicar of Mark Cross. His wife Maria was 47, they had three children living with them Alexander 12, Nora 10 and Mabel 8.
Living with them were, Thomas Hodgson 42, James' brother in law, who worked as a secretary, Emily Hamilton, 53 a Governess, Kate Hill 17, a domestic housemaid and Charlotte Hewitt, 15 domestic general servant.




1901 Census; The family were living at The Vicarage, Rotherfield, Sussex.
James Price 51, was recorded as Clergyman, Church of England. His wife Maria was 57, they had three children living with them Alexander 22, an agricultural student, Nora 20 and Mabel 18.
Living with them were, Charles C. Allen, 54, Priest of Church of England, Ada Hudson 18, cook, Florence A Vitter, 17, domestic housemaid.


William Price- After William Price Senior died, his son William Price Jnr continued at the Inn. Another interesting fact is that in 1884 William Price Junior, married Amy Thomas who was mentioned in the 1881 Census as being a housemaid at The Hall. In fact, Anna Theophila Philips signed as a witness on their Marriage Certificate.


Details of William's census entries appear under the Happy Union itself
Mary Elizabeth Price- She married William Hughes and they ran the Fountain Inn in Builth Wells
Edward Price- He married Margaret Thomas who was also employed at The Hall according to their 1880 Marriage Certificate. They ran the Crystal Palace Hotel in Aberystwyth. They had 4 children, William Meredith Price, Jessie Ann Price, Lucy Maria Price and Elsie Maggie Price. Jessie Ann later ran the Happy Union Inn in Abbey Cwm Hir together with her husband George Richard Bevan.


The 1881 census shows the family living at Queen's Road, Aberystwyth.
Edward Price 24, is an Hotel keeper, wife Margaret is 26. They had one child living with them, William M 5 months.
Edward's brother Alfred 15, scholar, was living with them.
Elizabeth Davies 20 was a general domestic servant.
The 1891 census shows the family living at Queen's Road, Aberystwyth.
Edward Price 34, is an Inn keeper, wife Margaret is 36. They had three children living with them, William M 10, Jessie A 8, and Lucy M. 1.
Catherine Jones 20 was a general domestic servant.




The 1901 census shows the family living at the Crystal Palace Hotel, Queen's Road, Aberystwyth.
Edward Price 44, is an Hotel keeper, wife Margaret is 45. They had three children living with them, Jessie A 18, Lucy M. 11 and Elsie 8.
Mary Jones 22 was a general domestic servant.


Alfred Price- he married Cleopatra Evans and pursued a Banking career.


The 1881 census shows Alfred living with his brother and family at Queen's Road, Aberystwyth.
Edward Price 24, is an Hotel keeper, wife Margaret is 26. They had one child living with them, William M 5 months.
Edward's brother Alfred 15, scholar, was living with them.
Elizabeth Davies 20 was a general domestic servant.
Most of their graves are still in the Abbey Cwm Hir Cemetery. I have visited a couple of times and just love the place. Unfortunately, I live in Perth, Western Australia so have not been able to explore the area as well as I would have liked but thank goodness for the Internet!!
Received the following fascinating request from
Roger Coward, about the Happy Union Inn. KD

Congratulations on your website, in particular because you give so much space to Abbeycwmhir.
I am interested in the history of the Happy Union Public House.

Having already looked at some of the Census Records, I was about to do some research on William Price of The Union when I found most of it on the web thanks to you at Penmon.org.
I am trying to find out "When the Union became Happy?" because the tombstone of William Price with death dated 1887 refers to him as "of The Union Inn in this village".

There is an oil painting of the pub dated 1894 with his name very clear but no sign of Happy - or Union for that matter.

The Census that you quote from 1901 refers to it as The Union Inn and I have a newspaper article of 1935 referring to it as "The Happy Union".
So the change must have happened between 1901 and 1935.
Is anyone aware of any particularly "happy unions" by marriage (or I suppose business arrangements) in the period of the Price Family or Phillips of the Hall?
| | |
| --- | --- |
| I am also trying to find out more about the provenance of the famous (actually not very famous - but should be!) Happy Union pub sign. | |
It says in the Phillip's Sale Documents of 1912 and 1919 that it was painted by Moreland. This could be as the famous G.Moreland (with paintings in the National Gallery) as he did paint country scenes, rustic figures, animals and pub scenes although there is no record of him going to Wales and was very much a Londoner.

The present owner of the Happy Union says it was painted in 1858 - but G.Moreland died in 1804 - however he was much copied.
Also Thomas Wilson (owner of the Estate 1821 to 1837 came from Dulwich, London and was involved in the art world and a collector. Thomas Wilson, after leaving Abbeycwmhir, becoming the major of Adelaide.
If you can help Roger with his enquiries, he can be contaced via
mail@penmon.org
ERWOOD
STATION
Erwood Station stood on the Cambrian Line in Mid-Wales between Newtown and Three Cocks Junction. The above photo was taken after the track was removed around 1964.


Left is the weighbridge at the station

POTTED LINE HISTORY

Llanidloes & Newtown Railway
September 1859

Llanidloes to Talyllyn in three parts

Three Cocks to Talyllyn

Llanidloes to Newbridge

Newbridge to Three Cocks

By September 1864
a 56 mile link from Moat Lane to Talyllyn rail link was available

Passenger line closed
December 1962.

You would have travelled through the following stations, junctions and halts
from Newtown to
Three Cocks

Newtown
Moat Lane Junction
(near Caersws)
Llandinam
Dolwen
Llanidloes
Penpontbren Junction
Tylwch
Glan-yr-Afon Halt
Pantydwr
St Harmons
Marteg Halt
Rhayader
Elan Valley Junction
Doldowlod
Newbridge on Wye
Builth Road
Builth Wells
Llanfaredd Halt
Aberedw
Tir Celyn Halt
ERWOOD
Llanstephan Halt
Boughrood & Llyswen
Three Cocks Junction
then to Talyllyn
Picturesque Rural Railway Station
Craft Shop
Art & Craft Gallery
Demonstrations (various)
Refreshments
Picnic Areas
Walk, cycle, car
Llywelyn Country
The Railway Carriage Galleries
ERWOOD STATION
CRAFT CENTRE & GALLERY
Open every day from Valentines Day to
Christmas Eve - 10.00am to 5.30pm.
I can recommend a stop at the Erwood Station & Craft Centre Gallery, which is situated on the B4567 road from Llanelwedd, near Builth Wells to Erwood. KD
Tylwch is my favourite spot in Powys.
It has no tourist attractions, but lies in a 'dip' on the back road from Llanidloes to Rhayader.
You seem to enter a special place as you drop down into it,
and when you emerge from it, you think
'Wow - where was that?'
Travellers may well be unaware that in 1899,
it was the scene of a tragic train crash.

Railway bridge over the disused Mid Wales Railway line

The trains from Builth approached Tylwch Station along here.


Tylwch Halt, now a private property
and below, when in active service.
6.17 am on the 16th September 1899, the 5.10 excursion train from Builth over-ran the up home signal and came into collision with the 5.30 down mail train from Moat Lane.
One passenger was killed and seven were injured.
James Davies was the station master at Tylwch, Samuel Hopkins and Richard Jones were the train drivers, Richard Evans and Stephen Humphreys the firemen, John Jones, the guard, and William Hamer the relief guard. Their reports can be seen at the above link.

Entrance to Tylwch Halt
1901 Census information on part of Tylwch
Living at Tylwch Station was the station master, Edward Wilson, 42 born in Astley, Shropshire. His wife Marian 41, was born in Llanwnog, Montgomeryshire. They had no dependant children living with them.
Tylwch Factory was uninhabited.
Living at Tylwch Cottage were John Pugh, 54, a railway labourer born in Radnorshire and his wife Margaret, 58, born in Cardiganshire. Boarding with them was railway porter John E. Davies 22, born Montgomeryshire.
Living in another property at Tylwch Cottage was John Bennett, 63 a railway labourer, born Radnorshire and his wife Jane 58, born Llandinam.
Newtown, Powys, in the heart of mid-Wales on the banks of the River Severn,
is set in some Britain's most attractive countryside.
One of the best ways to enjoy this scenery is on foot.
A group of people who like walking decided to find circular walks and make a guide to a number of walks around Newtown.
Walks to suit all ages and abilities are described in this website together with a detailed map of each route.
(all Precious Powys Places - KD)
If you have any
Precious Powys Places
to include here, please contact
mail@penmon.org
"PRECIOUS PLACES"
IN POWYS
UNDER THREAT.
Beautiful landscapes to be decimated.
Wildlife habitats to be destroyed.

Tirgwynt & Mynydd Waun Fawr
Rhyd Ddu
Carnedd Wen & Llanbrynmair
Can you do anything to help the
Conservation of Upland Powys?
Conservation of Upland Powys
Cadwriaeth Ucheldir Powys
Help;
e-mailchairman@cupowys.org
or phone
01691 831008
and leave a message.
They will get back to you

Conservation of Upland Powys
Cadwriaeth Ucheldir Powys
Carreg y Big
Cefn Coch
Welshpool, Powys,
SY21 0AW
Information at the following websites.
Click titles to enter the websites
Control of noise nuisance from wind turbines
Please sign the online petition

Please don't let them destroy our
"Precious Powys Places".